Meet Our Staff
Luxurious, intimate and unforgetable,
Welcome to our office staff page! Here you can find out the "dirt" on all of the staff located at our Orange County, California Headquarters! And although we have two divisions (Value sells Tours & Cruises & ValueAir– NOW renamed YUGOAIR, sells consolidated air tickets ) we all live in the same little "yellow submarine" and are one big happy family! (except when were arguing, yelling or tearing each others eyes out – like in any big family!)" The last time we updated this page was 1995 – we were a company on the upswing – young and ambitious and full of hope – and we wanted to convey the spirit within our office at the time…a spirit of fun, excitement, and youthful energy…(see archives for that story! "Well, it is now 10 years later…some of our cherished people have gone on to newer and better things…some of us have grown older, if not wiser together…and it was time to update this page – so here it goes – 10 years later! And still as "crazy as ever"
Update
As we celebrate our 20th year anniversary in 2012 we felt it was time to update these pages once again! While you will see a few new faces here and a few of our old friends have sadly departed (RIP Vojin and Jake), many of the old timers are still around for those of you who have been following us through the years! So here we go!
UPDATE 2018 – 25+ YEARS AND COUNTING:
Well, its been 5 years since our last updates and as we just celebrated our 25th year of being in the business – it goes without saying that it was time to update our company information, refresh the "tid-bits" on our good "old" staff and introduce you to some of our new team members so her goes "nuttin'"
Samo Toplak – CEO
Value World Tours, Inc.
2018: Wow again! Who would have thought that our "ferocious" leader would still be around and as "ferocious" as ever!
Now with silver lining in his hair (he won't allow us to update his picture though…. grrr) Samo is still as loud, funny and obnoxious as ever – the life of the office (yeah, we have to say that if we want to see our paycheck's). But kidding aside he still leads the way in seeking new products, negotiating with suppliers, overseeing all quality control – the buck stops here! PS: Don't tell anyone – but this year he turns the big 60!
2011: Wow – another update about our "ferocious" leader! Since we last updated these pages Samo has grown a little "gray" around the ears – but won't let us post an updated picture so as not to scare people away! Because our company now operates river cruises world-wide and requires a lot of his time to travel to far off places of the world he has ceded day to day responsibilities to his buddy and partner Jimbo (see below)… However, he is still the Same-o Same-o bigger than life "pater familias" to all of us in the office!
Go Daddy-O! Speaks English, Serbian, Slovenian, dabbles in Russian and knows how to say thank you in 11 other languages!
2005: Still here, and like good wine – aging well (what else can we say – he's the boss!?)! Everyone still calls him "Poppa" and he is still the same loud sales oriented obnoxious one…but now, we like to think he has mellowed out somewhat…as the lines on his face may show right? (NOT!) Since the last time we updated this page…his kids have grown to 16 and 12 respectively…his dog is 11 years old…and his wife and he will be celebrating 20 years of marriage March 18 this year (someone give the woman a medal!)
Samo's special note to all: "WOW… at 46 I really AM old (as my kids would say) But then again, after all the chaos in our business – 1999 Bombing of Yugoslavia, 2001 Sept 11… – 2003 Iraq + SARS…2004 Avian flu…you name it…we have survived it all! So…I am absolutely delighted that we are still here and would like to thank all of YOU for your continued support, especially all of our office friends and OLD TIME TRAVEL PARTNERS – who have withered the good and the bad with us! As Spock would say…"MAY YOU ALL LIVE LONG AND PROSPER!"
1995: As a former executive of Yugotours, an internationally renown specialist in Eastern Europe, Russia and beyond, Samo has over 20 years experience?.so don't let this old picture fool you! He speaks English, Serbian, Slovenian and by now quite a bit of Russian! Being the "loudest" of our bunch, he acts as the top honcho and "bad guy" – although he's really a pussycat! Affectionately referred to as "Daddy" our little family, he handles sales, marketing, product development and – signs our pay checks! Which is why we have to love him…! Speaks English, Serbian and Slovenian.
James Pierce – President
Value World Tours, Inc.
2018: If Samo is our Darth Vader, Jim is our Obi-Wan Kenobi! The "wise" one, as we like to call him, officially turned full retirement age and while he thought of retiring as soon as he got his Medicare card, we convinced him that gardening was not an all day activity, golf was not in his genes, and with a high school aged son, he still needed to work for the kids college tuition! We did agree to give him some more time with the family so he now works half days 9-1pm …but you will often see him replying to his emails at all odd hours of the day….retirement is just not in his blood!
Long live Uncle Jimmy!
2011: Taking over the day to day reigns from Samo was no big deal for Jim – who has practically been running the day to day company for years! Now that he is the proud father of a 7 year old second grader he is ever more in tune to our client and partner needs – doing second grade homework and revisiting old cartoons will do that to a person! A man of patience and steel…Jimbo speaks English and now knows 17 words in Chinese (hint: his wife is from Bejing!
2005: Since our last update 10 years ago, Jimbo finally tied the knot and on January 13, 2004 became a proud Poppa himself! Jeffrey is now 1 year old and is "smart like his Daddy and pretty like his Mommy"… and we could not wish a better man a better future! You GO Jimmy! Samo and Jim met on September 18, 1984 and 21 years later they are still together – best friends and partners – Wow…someone should write a book about this!
1995: With over 20 years in the business with various international airlines and Eastern European tour operators – Uncle Jimmy at age 4???? is the grandpa in our office?. He recently completed his 3 year studying Chinese (now he knows 12 words!) , a great quality in our crazy business! Jimmy oversees the overall company operations, reservations, airline relations and anything else for that matter… including signing our pay checks when Samo's not around! Gotta love him too! Fluent in English, dabbles in German (knows 7 words) and is studying Chinese… (12 words…).
Corinna Guggenbichler Vargas
Senior Manager, Reservations/Operations
2018: What a difference a decade makes! Now a proud Mom to not 1 but 2 sons, Corinna is our alpha and omega! Not only does she know every one of our products inside and out, she was instrumental in working with our programmers to develop our new user friendly on line booking engine! She is in charge of all aspects of our reservations and operations, including partner and supplier relations, online/offline bookings, and, most importantly – all company holiday and birthday activities including Halloween themes and costumes! Still speaks English, German & Austrian but thanks to her Latin Husband – now dabbles in Spanish as well!
2011: This lovely gal from Austria joined us in 2009 and thanks to her organizational skills and her tinkling laugh became a darling of all of our clients and travel partners! She is the first one on the phones and will make any booking a breeze! The only problem we had was, like with berengere, trying to pronounce her last name (try to say it 3 times in a row!) but thankfully she married George a little over a year ago and solved that problem for all of us! Speaks English, German and Austrian
Karin Wen
Accounting Manager
2018: While she came to us on a short term loan from our CPA – for some "reason" she decided to stay and now is celebrating her 5th year with the company! YEY Karin and shame on us for not having an earlier update about you! Maybe that is because being quiet and reserved, she occupies her own little corner of the office, and with her watchful eyes consistently focused on bills, invoices, corporate minutes and human resources – we sometimes forget she is even here! But without her diligence and attention to detail – who knows where we would be! One interesting fact about her is that although of Asian descent, she grew up in Brazil and is fluent in Portuguese! Great when dealing with our Douro partners! Obrigado!
Tea Toplak
Manager, Marketing & Social Media
2018: How this girl has grown! We remember her when she was 12 and interned one summer at the request of her Father – whom shall remain unnamed – but maybe you will figure out who that is! Now a mature and wonderful "woman of the world", Tea joined us 3 years ago in various capacities until we realized that with her millennial roots, keen eye for detail and creativity, she would be ideal to take over the Marketing and the growing Social Media needs of the company! Having gone through all phases of the company, from reservations to operations to actually traveling and experiencing most of our destinations, today she handles all our online ads, coordinates our marketing and printing efforts with Scott and Tania (see below) – and when needed, she hops on a plane and does Cruise Manager duties on various ships we have at sail! Currently, as a lover of all things Dutch, she is dividing her time between sailing on our Rhine Cruises while at the same time doing advertising and Social media duties – a girl of many talents! Speaks English, Serbian and is learning Dutch!
Brittany Bass
Travel Agent, Reservations/Operations
2018: What a great "fishing" season 2017 was for us (sorry Brittany but with a last name like that, couldn't resist the analogy!) As Tea was moving over to Social media and overseas, we needed to fill the space left behind with another young and bright person who would take us into the future – and there she was! A former collegiate tennis star and lover of anything to do with dogs or Anthony Bourdain and his travel escapades, Brittany was a natural fit for us! A quick study, with not even a year under her belt, Brittany is already an indispensable part of our team with a special talent for spelling and punctuation – thus her nickname "Hawkeye". First on the phones and our chat box, she speaks English and English but is picking up on all other languages in our multi-cultural office!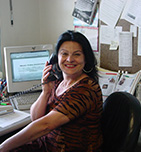 Mirjana Rodic (Toplak) – Manager, Air Division
YugoAir
2018: Ok we relent – after 25 years its time to reveal that Mirjana is not only an expert in all things travel – but she is also the better half of our "fearless" leader – who shall remain unnamed – but we are sure you will figure it out! One of the founders of the company, over the past 25 years she has filled every position in the company that we needed – from reservations/operations to guiding and experiencing every single one of our products to finally settling down to running our air division. Primarily in charge of our group air reservations she also shares ethnic ticket sales with Sonja (see below) and is as vibrant, charming and effervescent as ever (except when she gets pissed off and swears in Serbian)
2008-2011: Ah, what can we say about this vivacious and lovely gal! Although she works only during peak season months of February through September she is beloved by her clients for her quick wit and compassion! She puts %100 of her effort in finding the best routing at the best airfare possible for any and all destinations but especially for international flights to Europe and beyond! She is our "Jane Russell" to Sonja's "Grace Kelly" – an unbeatable pair of air experts we are proud of! Speaks English, Serbian and Bosnian…but can swear in 9 other languages too!
Sonja Metuleva – Manager
YugoAir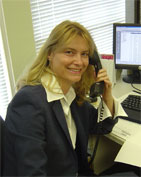 2018: Back in 2015 Sonja and her husband decided to move back to their home town of Ohrid, Macedonia. Oh the tears we all shed…until we realized that with the evolution of the digital age – we did not have to say goodbye! So with the wonder of VOIP and high speed internet, Sonja continues to do her "magic" as the fastest, bestest air ticketing agent west of the Vardar River and beyond! You can catch Sonja via phone every day from 9-2 pm PST or simply email her your request – and you will get the best deal for flights to Eastern Europe and beyond within 24 hours!
2011: Don't let her "Grace Kelly" looks fool you – this is one smart and sassy airline expert who is a whizz at finding the absolute best air connections and airfares especially to the former Republics of Yugoslavia and Eastern Europe! Originally from Macedonia, along with English she speaks Serbian and Macedonian and has a cult like following of customers she has built up over the years! Sorry guys…happily married! She is in charge of our wholly owned air division ValueAir.Com…so give her a holler when you need to fly!
2005: "Makedonsko Devojce" – This gorgeous Macedonian gal is the newest addition to our Renaissance Travel Staff. A recent arrival to the US, her family won a Green Card Lottery and decided to take the plunge. As technology engineers, both her and her husband and 2 kids found out that the US could be a difficult place to make a living in their prescribed jobs – but thankfully for us – Sonja is not only a whiz at computers but is also a wonderful and gentle soul which our clients are coming to appreciate…and as Reservations Agent is the first person you will talk to when buying an airline ticket.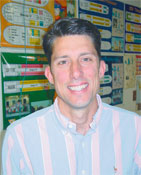 Scott Dafferner
Web/Print master and Branding Guru
2018: Another "relic" from our founding years, Scott is still handling all of our corporate branding, brochures and web sites 30 years later – and still looking like he is 22 years old (must be the IPA beer). Now a big "cheese" in his own right (he designs and handles web needs for other major companies) he is still our go to guy for all our web/printing needs – And we are deeply grateful for his loyalty, help and decades of service- GO SCOTTY!
2011: As we celebrate our 2 decades it is delightful to see how we and Scott have grown (old) together- NOT!
As our first ever designer of company logos, collateral, print advertising, brochures and web pages, Scott now oversees our company branding as well as web programming and a host of other activities! We couldn't have done it without him and we look forward to celebrating our mutual retirement parties together! J Beam me up Scottie! Speaks English, HTML, PHP, Asp.Net and Indian
2005: Holy cow! Scott is still here! We met in 1883 working for others… and then, when Jim & Samo started our company (1992) – Scott founded One Touch Design – a company specializing in brochures, web design and similar! Its amazing to see that Scott is still with us, sharing our offices as an independent designer, but still handling all of our company letterhead, web, advertising and brochure requirements after almost 15 years! Now married with 3 delightful daughters… But jeepers…you really make us feel oooollllddd!
1995: Scott is our webmaster (uuu..!), brochure designer, marketing guru and overall artist and image maker! While he works as our in house consultant under his own company "OneTouch Design" – he has been with us since our inception and has designed every single piece of collateral from letterhead, company logo's, ad pieces and designed over 56 brochures over that past decade (has it been that long already?)? – and now our web pages! So, if you have any comments and suggestions on how to improve our web site – send the good ones to us at cruise@valuecruises.net – but send all the bad ones directly to him at sdafferner@valuecruises.net! Fluent in English, English and 3 word of Russian!
Tania Kopitar
Web Design and Marketing Consultant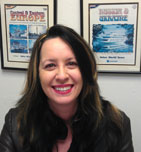 2018: Wowweeee! Tania came to us as a one-time project web consultant – and now 7 years later she is still with us designing and updating our multiple web sites, optimizing them for various platforms, making us look both pretty and modern – thank you TK! May we enjoy each others company for many more years to come!
2011: With the growing importance of the internet we realized we needed an additional expert to handle our growing web needs including web site management, design, html, advertising and similar – and lo and behold the Web Genie brought us Tania! Although officially an outside consultant Tania has been working on our web site and ad campaigns so intensely since she started that we consider her a full member of our little "family". She has and continues to upgrade our web site, making it more relevant and easier to use including adding our Facebook and Instagram profiles, new content and handles all of our web ads and marketing. She speaks English, WordPress, Html and PHP and a number of other "languages". Go Tania!
Edward T. Boot
Programmer Extraordinaire
2018: Back in 2016 we realized we badly needed to catch up with the times and re-invent our outdated old ASP.net both for our in house computer needs and the need for an online booking engine. After quite a few faulty starts, through the recommendation of Scott, we met Ed – the genius programming guru that he is! At the time, Ed was in his final year of Computer Science but already versed in all major computer languages and he took on the unenviable task of not only converting our ASP.net to the more modern PHP language but also building our own booking engine from scratch! To say how complicated this was would be an understatement….but with his typical doggedness, ability to understand our unique travel related needs, Ed got us up and running in less than 9 months – all by his lonely self! Today, Ed is our go to guy for anything related to programming – and very soon may become a household name with some of the new aps and side projects he is developing – including leasing our booking engine to some of our travel partners. Go ED!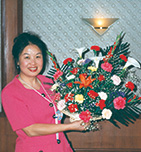 Helen Guo Pierce – China Consultant
2018: Still with us for all things Chinese – Helen ages like good wine! Her Chinese contacts are still fresh and valuable, her Mandarin is impeccable and her spicy pork belly with fried rice is to die for!
2011: As our first ever Tour and Cruise Director in China (1995) Helen has since moved to the US, married a Travel Executive and now resides in Fountain Valley with her husband and 7 year old son! (hint, hint!) While she works part time for us, her vast experience, knowledge of and contacts within China are indispensible when we plan and operate our ever popular China programs! And she cooks up an unbelievable array of Chinese delicacies too! Speaks English and Mandarin.
Helen is our Chinese "angel" – at least that's what the tons of complimentary letters from our Yangtze passengers call her! Based in Beijing she is our Senior Cruise and Tour Director for our China programs. While she spends most of the year march through November hopping from one tour to another in China, we love to bring her over during the off months of November through February…not only because of her smile and Chinese expertise mind you…but she makes the absolute best egg rolls you have ever tasted (among other Chinese delights!)…hmmm…all this food talk…must be lunch time…signing off!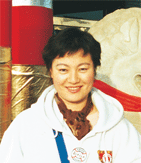 Sheila Ji Lan – Senior Tour Director – China
2018: Like Helen, Sheila is invincible! Now entering her 20th year as our primary go to girl for all Chinese programs, Sheila still leads all of our major groups through the vast landscapes of China! Weather 10 or 100 passengers, she is a leader without compare – it must be something in the air!
2011: Wow! 15 years later and Sheila is still going on strong as our Senior Tour and Cruise Director in China! She has weathered many attempts by our competitors who wanted to "steal" her, to many of our clients who wanted to 'adopt" her and like good wine she grows better and better with the passage of time! She is truly THE special Chinese ingredient that makes our China programs so successful! Keep on "truckin' girl!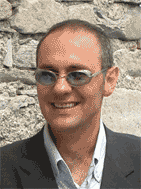 Dusan L. Kuljic – Senior Cruise Director, Europe
2018: this year represents 2 milestones for Dusan as he celebrates his 20th year with our company and his 50th birthday! Exuberant, all knowing, and people loving as always, he is our go to guy for any and all of our European sailing programs and has no intention of slowing down – including still playing soccer in his off time! Go Dusan!
2011: Like Sheila – another WOW! Can't believe it has been 15 years since this boisterous "loudmouth" joined our company first in our US head office and then leading our cruises all over Europe and beyond! Now a father of 2 Dusan is the reigning "Danube river wolf" as he continues to sail up and down the Danube dispensing his accumulated knowledge, sense of humor and love of life in general! Speaks English, Serbian, Romanian and dabbles in Hungarian! Go Dusan!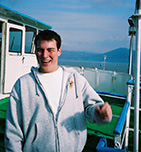 Andreja Minic – Cruise Manager, Europe
2018: From his start in our "youth program" as an Assistant Cruise manager, 7 years later sees Andreja with a graduated diploma in International Relations and a full time Cruise Manager aboard our various European vessels! Regardless of his new management stature and responsibilities Andreja still maintains that infectious smile that greets all our passengers sailing down the various European waterways!
2011: A Cruise Manager in the making! The younger son of the late and great Vojin Minic, we plucked Andrea in 2009 to sail aboard our Danube Cruises as Dusan's assistant and future Cruise Manager! Subject to his college obligations you will see Andrea and his infectious smile and youthful exuberance on our Danube cruises – but no you cannot adopt him! Speaks English, Serbian and some Spanish…
Galia Saifulina – Senior Cruise Manager, Russia
2018: This year marks 17 or 18 (lost count) since Galia started leading our Russian River Cruises – and lo and behold she is still going strong! Magnificent in both people and organizational skills, Galia leads the way in making our Russian River Cruises as popular as they are! A difficult destination to deal with, Galia is the reason why we have superb return comments and repeat clientele – Galia may you live forever!
Sveta Samotenko – Cruise Manager, Russia
2018: Along with Galia, Sveta is the second "magician" in our Russian duo – also celebrating over a decade in welcoming our clients to her native land! This March she gave birth to her second lovely daughter and is taking a break from sailing – but we look forward to having her back for many more years to come!
Our Russian Wonder Women!
2018: While some of the ladies from this 2011 photo have left our travel family to pursue other exciting opportunities, we are still in touch with all of them and will keep this photo on our site forever in memory of the many wonderful adventures we have shared with them for over a quarter of a century!
2011: Meet Anna, Luba, Kira, Galia, Olga and Sveta – our superb team of Russian Cruise Directors who have been instrumental in making our Russian Volga cruises the most consistent winners in popularity for ages! While we won't mention their years and years of great service J suffice it to say that these ladies are the soul of our Russian program and will guarantee that you will have a trip of a lifetime!